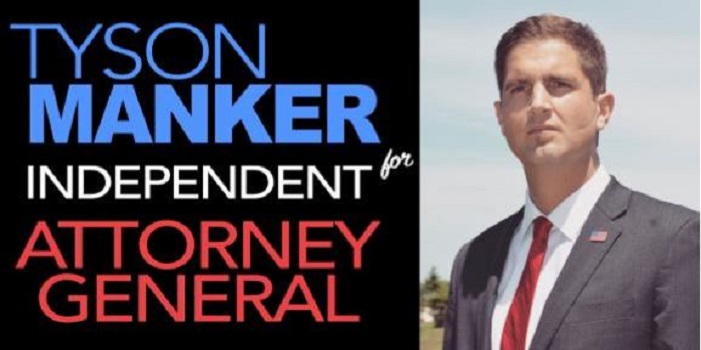 FOR IMMEDIATE RELEASE Contact: JR Manker [email protected]
Tyson Manker Announces Exploratory Committee for Illinois Attorney General
September 22, 2017 (South Jacksonville, IL) – Tyson Manker, a lifelong Illinoisan, attorney, and military combat veteran of the Iraq war, formed an exploratory committee to investigate the possibility of running to succeed Lisa Madigan as the next Attorney General of Illinois.
"Recently, a number of friends and supporters have encouraged me to run for Attorney General, and so now I am taking the next step in the process of making that decision," Manker said on Friday. "Unchecked government corruption is destroying our state, and Illinois is one of the most corrupt states in the entire nation. The next AG has to do better than the last."
In addition to investigating and prosecuting cases of public corruption and official misconduct, Manker, himself a survivor of violent crime, says the Attorney General must do more to protect citizens across the state from criminals, and assist victims of violence. The former Marine Corps infantryman also vowed to use the power of the office to help marijuana legalization efforts. "Marijuana prohibition must end," Manker said.
"I look forward to a spirited debate with the other candidates about these important issues."
In order to qualify for a spot on the ballot, Independent candidates for Attorney General must collect 25,000 signatures, which Manker says, "I am confident we can do. Everyone I know and talk to is sick of party politics, and ready for real change."
###