JERSEYVILLE, IL. (ECWd) –
Someone found a unique way to show the public they want and appreciate public involvement and input.
They arranged the board table in such a way as to force the public to look at their back-sides during the meeting.
There is no reason these people needed to have their chairs facing a wall with the public staring at the backs of their chairs.
Who thought up this seating arrangement?
My first thought when seeing this? What a bunch of jerks.
This was the "Central Illinois Water Organization Meeting" at the Jersey County Rural Water Company Office (click here for agenda).
Further articles are forthcoming…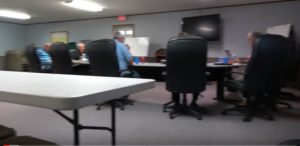 .