SPRINGFIELD, IL. (ECWd) –
A complaint was filed with the Illinois Governor's Office of the Executive Inspector General ("OEIG") complaining about:
IDOT Chief Counsel's wrongful interpretation of state law
IDOT Chief Counsel's lack of a definitive ruling base on established law
Edgar County Board's failure to comply with state law when dealing with the airport grant process and required land zoning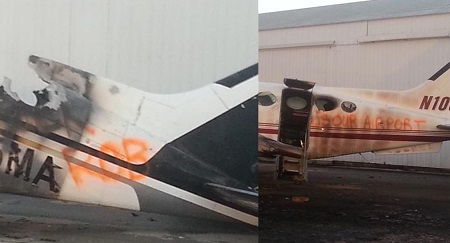 It is no secret that a certain individual has been a thorn in the side of the Edgar County Board and its airport for the past several years. The local "newspaper" even spews out lies about him and his complaints with the airport.
The bottom line with him, and with us, is compliance with the law. We do not doubt that eventually, this airport will receive some sort of funding from the FAA and IDOT, however, they must first comply with the laws of this state regarding this airport.
Here is a partial list of what has been uncovered about this airport's past and current actions – and, yes, much of it is way in the past, but some is current:
Fraudulent grant applications
Human Rights complaint against the airport and is alleged violation of civil rights with respect to its former prohibition of breastfeeding
(former) Airport manager who was an abusive liar
Special Treatment of certain individuals in their hangar lease terms in violation of grant assurances
Another fraudulent grant application
A secret airplane crash on the runway and nobody knows when it happened, how it happened, who was flying, or how the plane got towed from the runway into a t-hangar – they know what plane, who owned it and what t-hangar it was placed into…
Another fraudulent grant application
Hiring of a (former) airport manager who submitted a fraudulent employment application, and they knew it
Appointment of a (former) airport board member who has now been arrested and charged with voter fraud in Indiana
Violation of law by accepting grants for improvements without having established the required "land zoning"
Establishment of "hazard zoning" without at three-person zoning commission
Continuing to apply for grants without the required "land zoning" and attempting to pass off the 'hazard zoning" as good enough
What was the OEIG's response to the official complaint filed with them and alleging violations of law on the part of IDOT's Chief Counsel and the Edgar County Board?
"Your matter was referred to the Illinois Department of Transportation and also forwarded to the Edgar County Board."
Never mind that the county board and IDOT's chief counsel are the ones named in the complaint – they gave the complaints to them like there is actually any possibility of being reviewed by a neutral party on the complaint. IDOT had already endorsed the County Board's attempts at circumventing state law by claiming "hazard zoning" is the legislative intent of "land zoning" – which it is not and they know it.
The actions of Deputy OEIG Antoinette A. Kwateng and OEIG Margaret A. Hickey have placed the complainant in the position of retaliation by the county board for his complaints to the OEIG – we do not anticipate retaliation, but if this is standard practice with the OEIG, rest assured retaliation could happen elseware.
For what it's worth, at least we should already know the results of this investigation – the complaint will be unfounded. After all, why would they find themselves in violation of state law?
The only remaining question is who do you send a complaint to about the Office of the Executive Inspector General?
This complaint is about the differences in "land zoning" and "air hazard zoning" which can be reviewed in the 1967 Appellate Court decision in County of DuPage v Harris (click here) and applying the correct definition to Illinois law.
2017_08_04_Addl_Info_Ack_17-01347

.