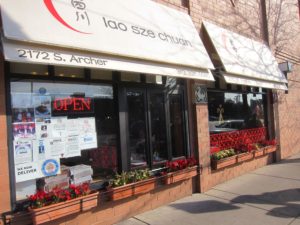 Orland Park, Illinois (ECWd) – 
In an update to an ongoing story, the Orland Park Public Library continues to refuse to produce a receipt for $96.50 that was spent at the Chicago restaurant Lao Sze Chuan on 6/23/17; the OPPL was asked to produce this receipt in a Freedom of Information Act request in July to account for employee spending on food and beverage, but instead of producing an actual receipt with an itemization of everything purchased or ordered at Lao Sze Chuan, the OPPL instead produced a credit card "Customer Copy" charge slip with merely the total spent at Lao Sze Chuan that day (and not an itemization of what was ordered, in terms of any food or drink or other goods or services).
An argument can be made that the OPPL did not comply with the FOIA request for the receipt for this spending since a receipt is defined by the Illinois state legislature as a listing of items purchased by a public body and their costs. A receipt, for government spending, is not merely a piece of paper showing a final total, such as a Customer Copy credit card charge slip. A receipt must contain a description of exactly what was purchased and its cost to taxpayers.
After several Requests for Review were filed pertaining to the OPPL refusing to produce this receipt, the state's Public Access Counselor's office became involved in early August and asked the Orland Park Public Library to contact the restaurant Lao Sze Chuan to obtain a copy of the receipt that accounts for the $96.50 spent on 6/23/17. The OPPL refused to comply.
The Orland Park Public Library admits that Lao Sze Chuan has a copy of this receipt and also acknowledges that the OPPL could obtain such a copy from this third party any time it asked. However, the OPPL suspiciously claims it is not in possession of the printed, itemized receipt that a Lao Sze Chuan waitress gave to Library Director Mary Weimar on 6/23/17 and refuses to obtain a replacement copy, even when the Attorney General's office politely asks them to resolve this matter by doing just that.
According to the OPPL's salary chart for 2017, Mary Weimar has an annual compensation package of nearly $200,000/year. She charged $96.50 at a restaurant, expects the public to pay for that, and refuses to produce a receipt with an itemization of what she ordered at the restaurant. If Weimar, or any other public employee, wishes to hide what she eats or drinks when out living it up in a restaurant then the best course of action would be to pay for meals such as those out of her own pocket and not expense them to the public. If taxpayers have to foot the bill then taxpayers have the right to see if anything questionable was purchased by a public employee and evaluate if the spending was sensible and prudent.
Does Illinois law governing travel expenses allow for a public body to hide itemization of purchases from public scrutiny because a public employee is embarrassed to show what she purchased?
An argument can be made that the OPPL is attempting to create a loophole where it can hide its spending from the public's oversight by destroying receipts with itemizations and instead only producing more-generically-printed credit card charge slips that only show the final total (but have no information about what was ordered and, thus, can't be used to determine whether or not public employees were purchasing alcohol with public funds).
The Local Government Travel Expense Control Act (50 ILCS 150/1) was enacted on 1/1/17 and requires public employees to obtain approval for their spending in advance of the spending and to produce receipts for that spending to the public body once those receipts enter into the possession of a public employee. It can be argued that the OPPL is noncompliant with 50 ILCS 150/1 in the matter at hand. Weimar's excursion to Lao Sze Chuan does not appear to have been approved in advance, as far as current documents show, and nowhere in any documentation is there information about any other people being involved in this restaurant expense other than Weimar herself. If other OPPL employees or Board Members were present at Lao Sze Chuan eating or drinking, the statute appears to require their names and job titles to be identified on the reimbursement paperwork in addition to Weimar's. No such names appear, so the public is forced to assume that Weimar was out spending the public's money alone on 6/23/17 (and thus grossly exceeding her $35/day maximum under GSA spending rules).
The Illinois Local records Act (50 ILCS 205/) states in Section 4 that "all public records made or received by, or under the authority of, or coming into the custody, control or possession of any officer or agency shall not be mutilated, destroyed, transferred, removed or otherwise damaged or disposed of, in whole or in part, except as provided by law. Any person who knowingly, without lawful authority and with the intent to defraud any party, public officer, or entity, alters, destroys, defaces, removes, or conceals any public record commits a Class 4 felony."(Emphasis added.) Here, an argument can be made that Mary Weimar was in possession of a receipt for her $96.50 spending at Lao Sze Chuan after the waitress in the restaurant presented her with a receipt showing an itemization of everything that was ordered. Weimar took possession of that receipt from the waitress, looked at it, produced a credit card to pay for the purchase, handed that credit card to the waitress and the waitress later returned with a Customer Copy credit card charge slip that Weimar retained (and produced pursuant to the FOIA request). It appears that Weimar may have intentionally destroyed the receipt with the itemization after it entered into her possession, seemingly so that the public could never see what she ordered and spent public funds on at Lao Sze Chuan. Since the OPPL has refused to provide any other clarification or explanation, this is what the public is left to assume.
But the Illinois State Legislature did not intend to create such a loophole for public employees to evade scrutiny. What's to stop every public employee in the state from trying this trick themselves and ringing up thousands of dollars in alcohol, steak, and lobster purchases…then claiming they (conveniently) "lost" the receipt and allowing them to instead just produce generic credit card charge slips that show only the final totals and not the extravagant items ordered?