LOGAN CO., IL (ECWd) –
In the business of government, elected officials and certain others in decision-making positions are required to file true and accurate Statements of Economic Interest for each and every year, and file them with the County Clerk of the county they are serving in.
Logan County (pop. 29,494) is the home of the Atlanta Public Library District, located in the small village of Atlanta, IL. (pop. 1,648) – Home of the Paul Bunyan Hotdog statue, which was moved from Cicero, Illinois to Atlanta, Illinois in 2003 (read about the statue here).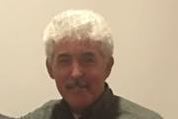 William "Bill" Thomas is an elected trustee to the Atlanta Public Library District ("APLD") and is required to file an annual Statement of Economic Interest ("SEI") with the county clerk.
During the course of our investigations of the APLD's "Union Hall Project" it came to our attention that Thomas has an alleged conflict of interest in the entire project, being that he owned the building – the "Union Hall" building…
A resident went to Logan County Clerk's Office in Lincoln, Illinois to obtain a copy of his SEI and what he declared on it. It took over 4 hours to obtain a copy, and Thomas had magically amended his 2017 SEI filing and file-stamped it at the County Clerks office that very same day – "coincidence?" – LOL…but this article is about his 2016 SEI filing.
Anyway, Thomas declared absolutely nothing on his SEI for 2016 even though he was getting paid, by the Library District, for Bookkeeping or something else in the name of Teleologic Learning Center, of which he is the owner.
Under item number 1:
List the name and instrument of ownership in any entity doing business with a unit of local government in relation to which the person is required to file, in which the ownership interest held by the person at the date of filing is in excess of $5,000 fair market value, or from which dividends in excess of $1,200 were received during the preceding calendar year; In the case of real estate, location thereof shall be listed by the street address, or if none, then by legal description.
He checked "Not Applicable" and then signed his name attesting to the statement's accuracy, and that he acknowledges that under the Illinois Governmental Ethics Act, the penalty for willfully filing a false SEI is punishable by fine, imprisonment, or both.
According to records received under the Freedom Of Information Act; during the preceding calendar year, the Atlanta Public Library District paid to Teleologic Learning Center, the amount of $200.00 each month for "bookkeeping" services.
Thomas is the CEO of Teleologic Learning Center according to state records. He was paid more than $1200 during the preceding calendar year.
Mr. Thomas was asked for comment, he has not replied as of this publication.
WilliamThomas-2016-SEI

.