"How could one woman steal over $53,000,000 without anyone noticing?"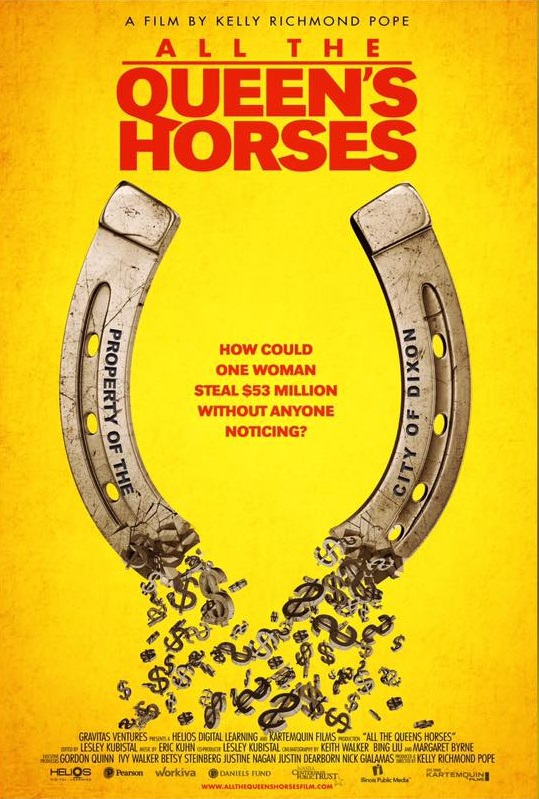 The largest municipal fraud case in the history of the United States, and not surprisingly it happened in Illinois, a breeding ground for corruption.
Dixon, Illinois, is a small community of a little over 15,000 people in Lee County.
Rita Crundwell, the comptroller and treasurer of Dixon, Illinois was convicted of stealing over $53 million, and she did it without anyone noticing.
"Go Horse Show" posted an article (here) on this movie stating the World Premier will be shown August the 9th.
"In less than 2 min, hear Gordon Quinn (founder and artistic director of Kartemquin Films) discuss why everyone should see ALL THE QUEEN'S HORSES. "
The Official Facebook page for this movie is located here: https://www.facebook.com/queenshorses/
The Official website for All The Queen's Horses: http://www.allthequeenshorsesfilm.com/
"People just trusted her" – is what we see every place we go.
"We've always done it this way"
We would encourage everyone to see this documentary and apply its lessons learned to your own communities. You might be surprised.
The Journal of Forensic and Investigative Accounting has a paper online (click here) entitled "Horseplay in Dixon: Lessons Learned from the Rita Crundwell Fraud" – we encourage you to read it.
Comments I remember from news articles at the time: "She was a good person" – "She always donated her money to local charities" – The same things we hear everywhere we go.
And the most recent comments we have heard when exposing alleged illegal use of a city purchasing (credit) card: "It doesn't take you from A to B to C" – "Clickbait" – "Doesn't rise to the level of outrage" – "Save the outrage for a real story". . .
*******************************
We have spoken with many police investigators and attorneys, most of which say it starts on a small scale. Tank of gas here, meal there, cell phone or credit card payment here, car insurance there, airline ticket for my friend here, use of city backhoe there, and eventually it becomes routine and grows until it is unmanageable and they can no longer pay it back before it gets noticed. Once it gets to that unmanageable point, they are caught and there is no hope in recouping funds to the taxpayers.
Unfortunately, some local State's Attorneys use their "prosecutorial discretion" and fail to prosecute these crimes at the local level, which means there is generally never a deterrent to committing these acts.
As for those unprosecuted crimes against the public: The public knows it happened, the public knows it did not get prosecuted, so the public becomes apathetic and loses trust in their local governments with the attitude of "There is nothing I can do about it" – or worse, they join the corrupt because that is the only way they can get ahead – the culture of acceptance.
Please watch the first 2 minutes of the below video where a United States Attorney, and school board member (now deceased), questions the auditor about acceptable auditing practices and the auditor confirms they are using a practice that IS NOT acceptable!

.
"Corruption changes the face of the community" –Patrick Fitzgerald.