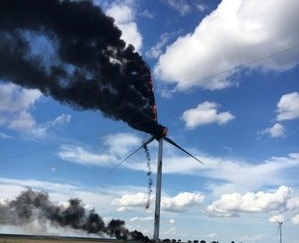 Safety: Snap, Crackle, and Drop
Master Resource
Lisa Linowes
19 June  2017
Wind turbine safety had an ugly three weeks.
During the late hours of May 31, a turbine blade at NextEra's Breckinridge Center in Oklahoma (in-service since August 2015), broke off near its base and was thrown to the ground – snap.
Days later on June 5 and 8, two turbines – one at NextEra's Endeavor I site in Iowa (operational since 2008)and a second at EDF Renewable Energy's Salt Fork Wind project in Texas (online since Dec 2016) — exploded into flames filling the sky with thick black smoke – crackle.
Watch the video and continue reading the article at this link:  StopTheseThings.com…