BLOOMINGTON, IL. (ECWd) –
Bloomington Illinois' Mayor Tari Renner took another vacation, I mean took another "business trip" to Bloomington's Japan Sister City.
It is our understanding he is in Japan as we are typing this article.
Diane Benjamin at BLNNEWS.com wrote about the bills and payroll last month, and we realized just today what was actually paid.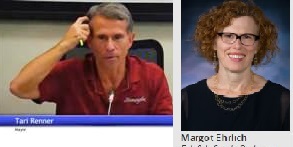 This time is different. This time he shafted the taxpayers of Bloomington even more, forcing them to pay for the cost of airfare for his girlfriend, at $1815.67 for the ticket – at least Renner's Facebook page claims he is in a relationship with her, Ms. Margot Erhlich, who is employed at Illinois State University.
Since the taxpayers paid for her airfare, we can only wonder who is paying for her hotel, taxi, and for feeding her face while she is there. Happy times with OPM (Other People's Money)?
Taxpayers have also presumably paid $20 of the $40 for the "Japan Sister City Agent Fee" – bringing the total, for only the travel portion, to $1835.67 of taxpayer's hard-earned money, so the Mayor can bring his girlfriend on vacation, I mean on a business trip.
We find no evidence she works for the City of Bloomington, and since the city paid for it, her working in any capacity for any other public body would not be a public purpose for the city.
Maybe, although extremely unlikely, she is the only qualified person to do whatever she is doing in Japan at great cost to the Bloomington taxpayer, we do not know, and it is unlikely she is in any official capacity of the city.
Expenses like this, when there is no public purpose, are a violation of the Illinois Constitution and can be charged as felonies:
SECTION 1. GENERAL PROVISIONS
(a) Public funds, property or credit shall be used only for public purposes.
(b) The State, units of local government and school districts shall incur obligations for payment or make payments from public funds only as authorized by law or ordinance.
We can't wait to find out the total bill incurred by these two individuals on their vacation.
Another question is why did the city council vote to pay this debt which is apparently not a public purpose? Did they even ask why they were buying her ticket when they voted to approve payment? Did they even look at the Bills and Payroll they were approving?
We left messages for several city councilmen and also tried contacting the city manager for comment. No responses provided as of publication.
.