NAUVOO, IL. (ECWd) –
A few days after we published a Press Release from opennauvoo.org about Nauvoo Councilwoman Beverly Re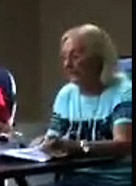 ynolds and her unflattering comments about "tar and feathers" on "people like this" and her apparent references to the 1840s murder of Mormon founder Joseph Smith and the subsequent ouster of Mormons from the City of Nauvoo, she left us a phone message.
The message indicated a demand that we take the article down within 24 hours or she would sue us for what we published – we were in Ohio when we received this message, and that was 5 days ago as of publication of this article.
After receipt of the message, I reviewed her Facebook comment and the contents of the article, and determined there was nothing written in the article that wasn't said by Reynolds on Facebook.
The article will not be taken down.
Please read her Facebook comment (below) and the previous article (here) and decide for yourself.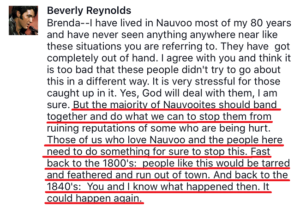 Listen to her threat to us:
It might be time for her to exit the public arena if she thinks she can threaten people and get by with it simply because she is on the city council.
.