Nauvoo, IL– (ECWd) –

Open Nauvoo Press Release– June 16, 2017 – Many Nauvoo citizens fear for their safety tonight after learning of statements made by Beverly Re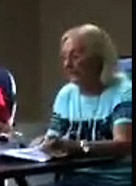 ynolds, Nauvoo City Councilwoman, who called for "people like this" to be tarred and feathered and run out of town.  The threats got even more graphic when she called for a return to the 1840's. She said "[y]ou and I know what happened then", referring to the murder of Mormon founder Joseph Smith and the expulsion of Mormons from Nauvoo," [i]t could happen again," she said ominously.
Members of the Nauvoo City Council are defending the embattled Mayor in spite of the alleged false official statements he has made regarding his business ownership, and its receipt of funds from the City for at least 10 years, and the Illinois State Police Investigation into these actions.
Reynold's statement came as a public reply to fellow Councilwoman Brenda Adkisson who referred to newly arriving citizens of Nauvoo as "newcomers" and unwelcome guests and referred to herself and others as "insiders" and "family." "Yes, God will deal with them, I am sure", said Councilwoman Reynolds.
Nauvoo, Illinois is perhaps best known as the town that was established in the 1840's by Mormon founder Joseph Smith.  Mobs killed Smith days after the Nauvoo City council decision to destroy a then existing newspaper.  The early saints were driven from the town and their Temple was burned to the ground. The saints have been gone for over 150 years, leaving the town in the hands of many who killed their leader. The Church of Jesus Christ of Latter-day Saints (Mormons) has its headquarters in Salt Lake City, Utah.
In recent years the LDS population has risen sharply as a result of the re-building of the Nauvoo Temple by the Church of Jesus Christ of Latter-day Saints.
Contact:
Robert Wright
Open Nauvoo
[email protected]
PO Box 134
Nauvoo, Illinois
Ph 309-333-6861
###