NEWTON, IL. (ECWd) –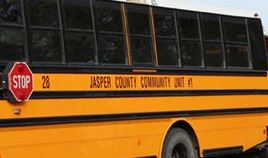 Earlier this year, the Jasper County School District #1 Board of Trustees and its attorney issued a "Cease and Desist" letter to board member Jed Earnest – something that carries no legal effect and portrays the board as nothing but schoolyard playground bullies.
This letter was purportedly approved by the school board, but we could find no meeting minutes with any board action authorizing a cease and desist letter for anything. Please remember that the board can do nothing without a majority vote (according to their own policies), which leaves us wondering if this truly was a board action or a vengeful act by the school superintendent and one or more board members acting outside their authority.
The underlying issue prompting the letter was that a board member allegedly forwarded some emails to non-board members and the board was upset about what was forwarded, claiming it to be privileged information. This article is not meant to discuss the actions of Mr. Earnest, but rather to point out the actions of the board and how their actions violate voter's civil rights.
In the letter, the attorney who wrote it described how the school board would violate every voter's 14th amendment right to vote and have their vote count. Here's how they are doing it:
alienate an elected board member by refusing to provide him access to the same information other board members have access to
blanket denial of access to confidential district information
blanket rescinding of board member's access to district's drop-box account
deny board member's access to non-confidential information in the same format and under the same conditions provided other board members – which means a delay in providing the information
By refusing to provide the information this board member needs to do his elected job, he is put in a disadvantage to other board members who have immediate access to the very information he is being denied.
Every voter in this school district is being denied their 14th amendment right, a civil right, to vote and to have their vote count. A vote does not count when the elected public official is denied the tools needed to accomplish his elected duties while other board members have those tools.
Whether you agree with or disagree with this board member's thoughts, actions, or political leanings, you should be outraged at the school board for violating the civil rights of all voters in the district. This is not how public business works, the district does not have any lawful authority to "dole out information by the teaspoonful" as they see fit depending on which board member requests it. The voters get to do that at the next election if they agree or disagree with his actions.
This is best illustrated by reading transcripts from Ebert v. Thompson:
"It wasn't up to one or the other of them to be the keeper of the conscience of all the other people or to impose extra statutory requirements upon this exchange of information among public officials"
"the elected public official is entitled to reasonable access to the books and records necessary to perform that function. That reasonable access cannot be doled out by the teaspoonful"
"The public has an interest in seeing that their elected officials perform the function they were elected to do"
"Those limits will be decided by the voters. If she abuses her office. . . I'm sure that is a matter that will be brought to the attention of the voters." 
quoting from another appellate court case [Wayne Twp v. Vogel]: "when there was a list of admittedly sensitive information at stake, the Appellate Court has no problem in just deciding almost summarily that as an elected public official, there should be a free exchange of information, period, and there is nothing more to argue about."
The bottom line is this: The voters will decide at the next election if these board members are doing what they were elected to do.
.