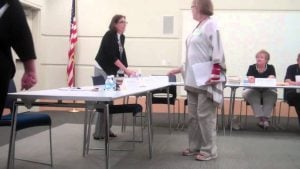 Orland Park, Illinois (ECWd) –
On Monday, April 17th, 2017, the Orland Park Public Library Board is poised to approve spending in the amount of $6,700 to send staffers and Board President Nancy Wendt Healy on another round of needless conference traveling.
It begs the questions: is this spending ever necessary, do these staffers ever learn anything truly worthy at these conferences, and does the public ever actually benefit from all these public employees going off on adventures outside their usual workplace (while collecting their full salaries as if they were at their desks working)?
According to their itemized agenda, $3,700 is being allocated for Library Director Mary Weimar, Assistant Director Mary Adamowski, Outreach Services Manager Kelly Cuci, Youth Services Manager Diane Norris-Kuczynski, and Library Spokesman Jackie Boyd to attend the American Library Association's conference in downtown Chicago in June. The ALA event is a three-day affair, so the first question raised by this spending is whether it's truly necessary for all of these people to attend all three days of the event.
Since day passes to the conference are much cheaper than the three-day-pass, why couldn't the Orland Park staffers just attend one day and save the public some money? The conference is mainly just an exhibit floor where publishers have advance copies of selected new books that they give away and conference attendees are given little red trick-or-treating bags to walk from one exhibit table to the next collecting pens, posters, candy, and other goodies that the trade show exhibitors keep in little bowls for them to take. While this experience is fun for all who attend, is it necessary for all of these adult Orland Park staffers to trick-or-treat for three days straight?
According to its website, the ALA also offered a discounted price for early registration, which the Orland Park Public Library seems to have chosen to miss. If they had registered for the conference before March 22nd, the three-day-pass would have been $285/person; but since the OPPL chose to register after March 22nd, they are paying $300/person each for a three-day-pass. If they each attended just one day of the conference instead of three, the cost would only be $195/person.
It also appears they all intend to say in hotel rooms downtown instead of commuting from Orland Park to the conference every day, which would save the public a lot of money. Why do Orland Park Public Library employees — who work in a suburb of Chicago easily accessible by regular Metra commuter trains — need to stay in hotel rooms in downtown Chicago when they could just commute from the suburbs for this conference?
Additionally, the OPPL announced it would be spending another $750 to send Library Board President Nancy Wendt Healy to the conference as well. Over the years, Healy has traveled to many of these conferences. A few years ago, she made taxpayers cough up a small fortune to pay for her and Mary Weimar to wing off to New York City for another ALA conference. What's the point in sending the same board member to the same conferences over and over again? If the point is to educate board members, then why not spread the experience around to other members of the Board besides Healy?
If Healy hasn't learned anything worthwhile by now — and she's been to multiple versions of this same event — then she's clearly never going to learn anything and the experience is wasted on her.
It should also be noted that the American Library Association is a private lobbying group that often pressures public bodies to act contrary to the needs and wishes of communities. This is well-documented in the book SHUT UP!: The Bizarre War that One Public Library Waged Against the First Amendment, where members of the ALA's Orwellian-sounding "Office for Intellectual Freedom" encouraged the Orland Park Public Library board and staff to intimidate and silence the public when community members demanded that the OPPL stop allowing child pornography to be accessed and other sex crimes to occur in this suburban public library.
After funneling registration fees to the ALA, the OPPL Board will also vote on April 17th to send another 16 staff members to two other conferences, spending almost $3,000 more for that.
Whenever the Orland Park Public Library wants more taxpayer money (to squander), they threaten that unless a tax levy is raised that children's story time programming will be canceled and they will not be able to buy any more Braille books for the blind and whole orchestras of tiny violins are conducted to tug at everyone's heart-strings.
Why is it that children's programming is always threatened unless taxes are raised or more taxpayer funds are diverted to the OPPL? Why is it never announced that conference spending will have to be cut and OPPL staffers won't be able to sleep in fancy hotels and eat meals on the public dime at a trade show unless the levy is raised yet again?
If these conferences were truly so vital and if they actually did benefit the community, wouldn't the Orland Park Public Library (and other public libraries) want to highlight their importance whenever possible and at the very least explain what the public gets out of sending so many staffers to these things annually?
[gview file="https://edgarcountywatchdogs.com/wp-content/uploads/2017/04/Agenda-April-17-2017-FINAL.pdf"]
.