Alorton, IL. (ECWd) –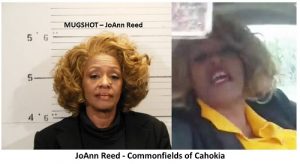 Jo Ann Reed, the vile creature who was caught on camera screaming obscenities, the likes you might hear from a drunken street hooker, at a citizen in the parking lot of Commonfields of Cahokia Water District; charged and convicted in 2014 of a felony for bringing contraband into a penal institution and removed as Alorton Mayor as a result; indicted in December 2016 by a Federal Grand Jury of buying votes and disregard of election code; ran for Mayor of Alorton, IL. and "won" the election this month.
How can this happen? Simple, after her conviction and sentence were completed for the felony conviction, instead of trying to expunge her record, her attorney motioned to dismiss the case. A St. Clair County Judge granted the motion which resulted in a de facto expungement, only better. It is now as if the felony conviction never happened at all. At least that is how I read the court docket available online.
There is something terribly wrong when this can happen in Illinois.
.