JACKSONVILLE, IL. (ECWd) –
After the article we published yesterday (with incriminating video) concerning the apparent Gray Noll campaign event held in the concession stand of the local school district, Morgan County's appointed State's Attorney Gray Noll has scrubbed his campaign Facebook page of all evidence related to that event.
We weren't born yesterday, and we did screenshot his page prior to publishing the article: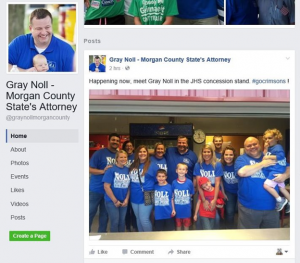 In our previous article we showed several laws we allege had been violated in the concession stand electioneering issue, like the election code, the constitution, the state officials and employees ethics act, along with school district policy.
After defending electioneering on school property, he took down all reference to the event from his Facebook page, but interestingly left up the photo of his campaign sign placed on Village right-of-way.
Is taking the information down an indication he finally realizes he was wrong?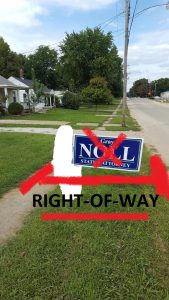 .
Please consider a donation to the Edgar County Watchdogs.
[wp_eStore_donate id=1]
.