Clark Co., IL. (ECWd) –
According to the Complaint received from the Clark County Sheriff Department, Jonathan Kaye, Candidate for the 110th District in Illinois was with his wife, Claire Kaye, on February 2, 2016, in West Union, Illinois.
After a pancake breakfast at the West Union Community Center, Jim Runyon was leaving and approximately a block away from the Center, when he was talking to Jonathan and Claire Kaye.
Runyon's statement to the Clark County Sheriff's Department says that Claire Kaye was recording the conversation and he asked her to stop recording.
He apparently thought she stopped recording since the video shows the phone down at her side(screencap below), or not in a position where a person would realize he was being recorded.
Runyon states he did not give her permission to record nor to post the recording to YouTube.
The video was posted on YouTube, under the account name of "Grandsons of Liberty" – which appears to be a new account set up for the purpose of electioneering against another State Representative Candidate. The video clearly identifies Brady Hall in the video as the person making the video to post online, and clearly identifies the people talking and that it was recorded with a cell phone.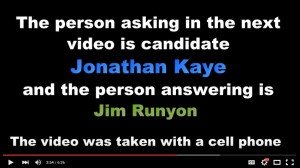 .
Within a couple days of learning the conversation was recorded and distributed to countless numbers of people, Runyon drove to the Clark County Sheriff Department and filed a criminal complaint for Eavesdropping against Claire Kaye (below).
We invited, thru email, Claire Kaye to comment on this Complaint and no response had been received prior to publication.
We would also like to remind our readers that this was a complaint filed to the Sheriff's Department, and the State's Attorney is the person who decides whether or not and which charges will be brought, if any, against Claire Kaye. Additionally, all persons are presumed innocent unless and until proven guilty in a court of law.
Eavesdropping and the Illinois Criminal Code
This was listed as an  ISP Offense Code 2835, Eavesdropping.
720 ILCS 5/14-2 is the law on eavesdropping (here).
(a) A person commits eavesdropping when he or she knowingly and intentionally:
(2) Uses an eavesdropping device, in a surreptitious manner, for the purpose of transmitting or recording all or any part of any private conversation to which he or she is a party unless he or she does so with the consent of all other parties to the private conversation;
(5) Uses or discloses any information which he or she knows or reasonably should know was obtained from a private conversation or private electronic communication in violation of this Article, unless he or she does so with the consent of all of the parties.
Eavesdropping, for the first offense, is a Class 4 felony. For the second and subsequent offenses, is a Class 3 felony.
The report states that it is being forwarded to the Clark County State's Attorney.
[documentcloud url="http://www.documentcloud.org/documents/2757363-Eavesdropping.html" sidebar=false text=false]
.
Please consider a donation to the Edgar County Watchdogs.
[wp_eStore_donate id=1]
.