CLARK Co., IL. (ECWd) –
On February 24, 2016, the State Fire Marshall's Division of Petroleum and Safety conducted an on-site inspection of the Clark County Park District's fuel dispensing station at Mill Creek Park. You can look-up the inspection at the State Fire Marshall's website (here).
The CCPD was cited in May of 2015 also (click here).
Deficiencies this time were:
A/B Operator Training
Missing copies of quarterly inspections
Monthly sensor inspection records not available
Monthly tank leak test records unavailable
Spill prevention not clean and dry
Fire extinguishers not provided and at not at every dispensing area
Fire extinguishers not at each island and at emergency shutoff
Fire extinguishers not clearly marked with identifying sign
They have 60 days to fix the deficiencies.
Hopefully, this will make it onto the Director's annual performance evaluation…cited twice since her last evaluation…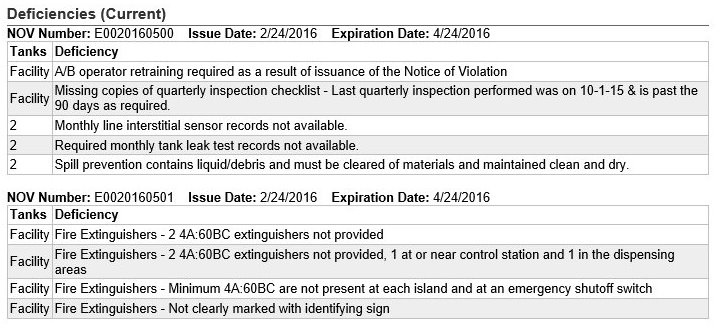 Please consider a donation to the Edgar County Watchdogs.
[wp_eStore_donate id=1]