SPRINGFIELD, IL. (ECWd) –
With all the media reports of alleged improper campaign spending by Frank Mautino, I decided to look at the Sponsors of joint resolution appointing him as Illinois Auditor General.
Why haven't these Legislators spoken out and encouraged Mautino to come clean on his campaign spending?
Senate Sponsors
Sen. John J. Cullerton – Christine Radogno – Iris Y. Martinez – Jason A. Barickman

House Sponsors
(Rep. Michael J. Madigan – Robert Rita – Barbara Flynn Currie – Fred Crespo – David Reis)
All are Democrats with the exception of the lone House Republican Sponsor, David Reis, (R) 109th District out of Olney – and the two Senate Republican Sponsors, Christine Radogno, (R) 41st District out of Lemont – and Jason Barickman, (R) out of Bloomington.
Since the Auditor General is supposed to be a nonpartisan position, Madigan must have went to the people he knew would support Mautino without so much as a cursory vetting process.
Please contact these officials and express your displeasure that Mautino has not yet answered any questions put his way.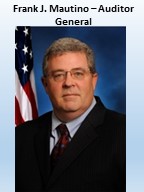 Please consider a donation to The Edgar County Watchdogs.
[wp_eStore_donate id=1]