PLAINFIELD, IL. (ECWd –
I submitted a Freedom of Information Act request for a simple thing – copy of comments left on a post on the school's Facebook page.
Now it appears the PSD202 is prepared to spend public funds to keep those public records from the public.
The Illinois Freedom of Information Act defines public records as:
c) "Public records" means all records, reports, forms, writings, letters, memoranda, books, papers, maps, photographs, microfilms, cards, tapes, recordings, electronic data processing records, electronic communications, recorded information and all other documentary materials pertaining to the transaction of public business, regardless of physical form or characteristics, having been prepared by or for, or having been or being used by, received by, in the possession of, or under the control of any public body.
The Facebook page is the official Facebook page of PSD202, and electronic communications were received thru that page, and are therefore public records open to public inspection. This is no different than emails, phone messages, public comment at meetings, or letters written to the public body.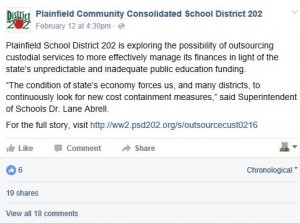 At the time of my request there were 8 comments, now there are 18 comments. The district has no right to keep those comments from the public.
The district claimed exemption 7(1)(f) – but these records do not fall under that exemption. There have been Court and AG Opinions on this subject that make it very clear these records are open to public inspection.
Section 7(1)(f) is "intended to protect the communications process and encourage frank and open discussion among agency employees before a final decision is made"  Harwood, 344 Ill. App. 3d at 248. Which is equivalent to the Federal FOIA deliberative process Dumke v. City of Chicago,2013 IL App (1st) 121668, ¶14, 994 N.E.2d 573, 578 (2013). Communications with parties outside the agency cannot be characterized as intra-agency communications See Department of the Interior v. Klamath Water Users Protective Ass'n, 532 U.S. 1, 121 S. Ct. 1060, 1069 (2001). Illinois Attorney General Binding Opinion 15-002 also discusses this issue starting at the bottom of page 12. AG Binding Opinions 13-015 and 15-001 discuss it also.
I have sent a Request for Review to the Attorney General's Office and will most likely file a civil suit to gain access to those records, depending on how long the AG takes.
It is a shame the public must go to these measures when the law is so clear.
[gview file="https://edgarcountywatchdogs.com/wp-content/uploads/2016/02/4013_001.pdf"]
Please consider a donation to the Edgar County Watchdogs.
[wp_eStore_donate id=1]