Will Co. (ECWd) –
It is becoming ever so clear the only thing that wakes people up in this state is a crisis.  Some would argue the same for the country.  When reading any history of tragic events it becomes clear there were in fact indicators of a growing problem long before the actual crisis.
Clearly Lincoln-Way School District 210 is in the middle of a major crisis of which many in the district may not even be aware of.
District 210 is comprised of 4 high schools with approximately 7,700 students.  A seven member Board of Education is in charge of this small operation that currently is in excess of $500,000,000.00 [500 Million Dollars] in Bond debt.
Yes, half a billion in bond debt!
Every public body we have ever looked into that has financial troubles has pointed to one common denominator, Leadership, or lack there of!  The School Board members are the ones that are suppose to be representing the taxpayers and ensuring their tax dollars are in fact being spent within the legal parameters outlined by the School Code.  Before we get into the illegal and questionable spending, which will be a multi-part series on the crippling debt of District 210, let's simply take a moment and look at its leadership.
Kevin Molloy is the current Board of Education (BOE) President and has been a board member for approximately 10 years.  More often than not, looking at those in charge tells us a lot about why we have a financial crisis in our local government.  Looking at these people should be the very first thing voters do before casting a ballot as their personal financial management can be an indicator of what to expect when they get to manage your tax dollars.
The last 5 years of financial information for this school district indicates they have deficit spent $37,407,227.00 Million, which averages $7.48 Million a year since 2010.  That should have been the first indicator any competent BOE member could recognize. (See aggregate history here)
A quick broker's check on Mr. Molloy, as he is a State Farm Insurance broker, points to three judgements/liens in his name.  With over $180,000.00 in IRS judgements/liens and another $8,000.00 plus with Will County, we believe this is one of the first indicators you may have a problem in your local government if he has anything to do with it.  (See page 9 and 10)
Other red flags pertaining to Mr. Molloy that the taxpayers of the district may have an interest in knowing.
When those in charge of our tax dollars can't manage their own financial affairs, we must ask the question, do we trust them with our children and our tax dollars?
Stay tuned for more to come on the exposure of how a small school district gets itself into half a billion dollars in bond debt!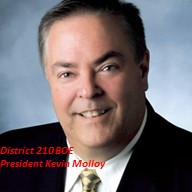 .