DuPage Co. (ECWd) –
As reported here, Chris Robling resigned his uncompensated employment with COD.  Note that this was his doing and was not from any action taken by anyone at COD.
We see now that McGuire has called a special meeting in which an agenda items pertains to Chris Robling.  McGuire has insisted Robling's involvement at COD was purely political and continues to make a spectacle of herself with her obsession  with this person.
Item #13 on the McGuire created agenda states:
RATIFICATION OF THE TERMINATION OF CHRIS ROBLING AS ASSISTANT TO THE PRESIDENT FOR INSTITUTIONAL AND TRANSITIONAL AFFAIRS.

Considering Robling was NEVER terminated  it would be impossible to ratify a termination.
It is clear McGuire is attempting to disparage Mr. Robling  with this action.  We can only speculate that she simply wants to be able to say COD terminated him which is clearly not the case.
Her actions in this new stunt are yet another example of the drama queen's desperate need to draw attention to herself and create her own version of reality. I sure hope the HLC is watching!
The facts of the situation can be confirmed by viewing the video from the last meeting.  Note that at the 38:40 mark of the video Chris Robling shares the facts, which clearly exposes COD Trustee McGuire's false narrative that his involvement is political.
Facts once again expose Trustee McGuire and her damaging behavior as a COD Trustee.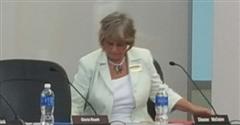 Please consider a donation.
[wp_eStore_donate id=1]