SPRINGFIELD, IL. (ECWd) –
Rob Bogue and I made a visit to the State Capitol today and talked with several State Legislators and a State Senator about some concerns we had in southern Illinois.
Took a picture with State Representative Brad Halbrook, from the 110th Legislative District, overlooking the House Floor. We then went and observed the State Senate in action where we saw Chapin Rose and Dale Righter working on the Senate Floor.
Here are the pics – an in-depth article is forthcoming on my testimony at a Legislative Committee Hearing held this afternoon.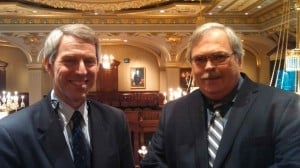 .