PARIS, IL. (ECWd) –
In our first two articles in this series on potential grant application fraud, we discussed "inaccurate" fuel sales numbers and "inaccurate" statements on the size of tank used for Jet A fuel. This article discusses the term "based aircraft" and the numbers used in the grant application.
Defining the term "Based Aircraft"
 We will use the FAA's definition according to the National Based Aircraft Inventory Program contractor, GCR and Associates, who are under contract with the Federal Aviation Administration (FAA) to inventory and classify all aircraft and where they are base out of. This is not a new program as they have been traveling the country since 2004 gathering data under this contract. The most important data, for the purposes of this article, they have been collecting are the "N" number and their owners. This is to develop an accurate baseline database of all based aircraft, by location.
This information is used to determine, among others, grant monies available to specific airports and to classify these airports based on the number of aircraft based there and the take-offs and landings at each airport. In essence, it all goes back to qualification for federal grant money.
Based Aircraft is defined by the FAA as:
"A based aircraft at your facility is an aircraft that is
"OPERATIONAL AND AIR WORTHY",
which is typically based at your facility for a MAJORITY of the year."
The definition doesn't leave much to the imagination does it? With that said, would this picture be one that qualifies as based aircraft, being operational and air worthy?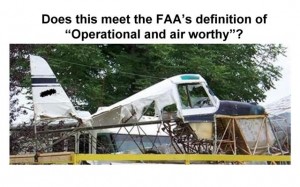 What was reported on the Grant Application?
 In the grant application for the $1,000,000.00 (One Million Dollar) fuel farm/apron expansion project using federal grant money, Jimmy Wells and Jim Keller reported the Edgar County Airport as having 35 aircraft based at the airport.
We know this is an exaggeration since the most that have EVER met the FAA definition and been "based" at the Edgar County Airport is 20 or 21 aircraft that were operational and air worthy, having spent the majority of the year at our airport. We will have the tail numbers around Dec 10th when our FOIA gets answered. You might wonder why there is a problem if numbers are misreported? Because it all comes down to qualification for the federal grant!
With that being the case, it appears that along with false fuel sales numbers and false statements regarding the size of the Jet A fuel tank, we have a third fraudulent statement as to the number of aircraft "based" at the Edgar County Airport.
Keep watching, there is still more to come…