McHenry Co. (ECWd) –
Algonquin Township filed a Motion to Dismiss an FOIA case and today was the hearing.
We requested all posts from the "Karen Lukasik Algonquin Township Clerk" Facebook page along with the names of those blocked from the page.
James Kelly, the Township attorney, played games with the response by claiming Karen Lukasik is not a public body and her personal Facebook, "Karen Lukasik for Algonquin Township Clerk" account is not prepared for, used by, received by, possessed by, or controlled by a public body, in this case, Algonquin Township.
Never mind the fact we did not ask for her political page.  We asked for the one screen-captured and pictured below, which the world can see is not the name of the Facebook page referenced by James Kelly.
During the Hearing, Kelley claimed the page in question did not contain any posts.  Karen Lukasik, in a sworn affidavit, said the same thing.  See number 3 in her Affidavit.
"3) There have been no posts on the "Karen Lukasik Algonquin Township Clerk" Facebook page, and no one has been blocked from the Facebook page "Karen Lukasik Algonquin Township Clerk"
Note two key problems for James Kelly and Karen Lukasik.  The response from Kelly pointed to a political page but the sworn affidavit pointed to the exact name of the page I requested.  Lukasik clearly stated, under oath, there were no posts to the Karen Lukasik Algonquin Township Clerk Facebook page, as did Kelly in court today.
Look closely at the screenshot and tell us what you see.  We see posts on that page, contrary to what has been represented to the court.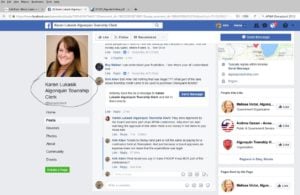 How do we know this was not a political Facebook page as Kelley has attempted to represent?  The Screen capture clearly shows the message block open and it states, "Instantly send this as a message to Karen Lukasik Algonquin Township Clerk and talk to them directly".  Note that it does not say send a message to Karen Lukasik FOR Algonquin Township Clerk.  
So our question is simple, who lied to the court?  It would appear Lukasik's sworn affidavit is false because clearly, the screen capture shows posts made to the page in question.
Considering she swore under oath and penalty of perjury, maybe a motion needs to be made to the courts to hold her accountable under the oath she swore to and a sanctions motion against Keely for bringing what appears to be a false affidavit before the court.
We will update as this case moves forward.