PARIS, IL. (ECWd) –
Edgar County remains void of any official positive COVID-19 cases.
Horizon Health, located in Paris, Illinois, published an announcement on its Facebook page yesterday saying one of its employees had tested positive for COVID-19 and is currently recovering at home.
According to county officials, this positive case does not live in Edgar County, or even in Illinois.
The Edgar County Public Health Department has announced its testing results, and the County is still without any cases of COVID-19 as of this morning.
Click on photo to enlarge Horizon Health's announcement: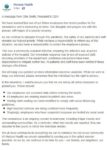 .Our work is funded entirely thru donations and we
ask that you consider donating at the below link.