CARLINVILLE, IL. (ECWd) –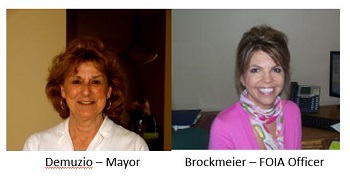 During the November 8, 2018 Hearing in Sangamon County Circuit Court on Kraft v. Carlinville (2017-MR-25), arguments were presented and heard in Plaintiff's 2nd Motion for Partial Summary Judgment ("MPSJ").
Plaintiff presented a signed affidavit and photograph attesting to a meeting Defendants claim did not occur. Defendant Carlinville argued that the Electoral Board did not exist until it held its first organizational meeting and as a result, there was no meeting.
Plaintiff argued a signed affidavit attesting to the adequacy of Carlinville's search for the requested public records was needed, Defendant argued all that was needed was that Carlinville say no records existed (without any affidavit or proof of an adequate search). The Court disagreed with Carlinville.
The Court Granted Kraft's 2nd MPSJ and:
Ordered Carlinville to conduct an adequate search and prepare and present an affidavit detailing the adequacy of its search for the public records in question, and the completeness of the records requested.
Ordered that Plaintiff be granted leave for Discovery with Carlinville's FOIA Officer, and with

additional individuals

on Motion, should additional discovery be warranted. Discovery would be to ensure an adequate search was conducted.
Copy of Plaintiff's Motion for Partial Summary Judgment, Carlinville's Response, and Plaintiff's Reply in Support of the MPSJ can be found (here, here, and here).
This Freedom of Information Act lawsuit comes from a request for public records submitted to Carlinville on January 16, 2017, seeking meeting agendas, meeting minutes, communications, and objection petitions. This is only one of 5 FOIA lawsuits various parties have against the City of Carlinville.
We suggest Carlinville residents let their councilmen and mayor know how much they appreciate their hard-earned tax money going to pay the city attorney to drag this out in court when the city will still have to produce the requested records after tens of thousands of your tax dollars are spent trying to keep them from the public.
.