Bolingbrook, IL. (ECWd) –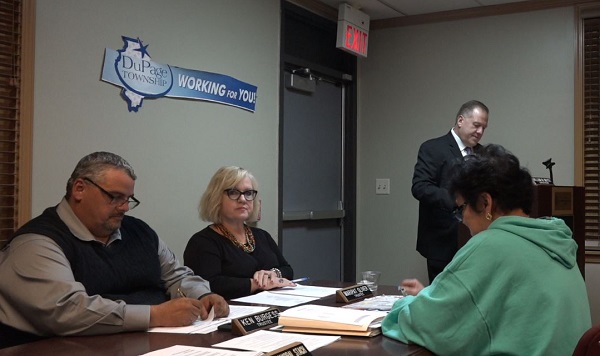 Yes, William Mayer, the DuPage Township Supervisor, along with Trustee Maripat Oliver (also a member of an obscure board with Illinois Department of Children and Family Services – wonder what they think about this ban…) banned breastfeeding during public meetings of the DuPage Township Board of Trustees as part of their public comment ordinance.
Other items banned are water, tea, soda, chewing gum, Tic-Tacs, mints, pizza, popcorn, bacon, and anything else consumed by a human or another animal. What any of this has to do with public comment rules is beyond my imagination.
The Federal Food, Drug, and Cosmetics Act defines "food" and "food product" to be:
articles used for food or drink for man or other animals
chewing gum
articles used for components of any such article
The newly created "Ordinance For Rules Regarding Public Comment at Township Meetings" (below) violates state and federal law on its face.
There are several issues with this Ordinance, and it must be changed:
Commentary shall be limited to township business

Who determines what is township business? The Board talks about things that are not township business (in my opinion) but they require the public to only talk about township business? As an example, I was told what I was talking about was not township business, but it was directly tied to the illegal use of General Assistance funds
Commentary shall be directed to the presiding officer unless that officer permits the commentary to be directed to board members or other officers present

The OMA grants the right to address public officials, not just the Supervisor, and without asking anyone's permission to address certain officials
Profanity shall not be used in any form or manner

Who decides what is and what is not "profanity' – do we use the township's unpublished made-up definitions, or do we use the United States Supreme Court's definition?
Questions regarding specific elected officials, officers, or employees of the Township will not be entertained

There is no prohibition in the OMA on entertaining questions regarding specific individuals, we understand they are under no obligation to answer questions, but the public thinks, under this Ordinance, that they cannot ask questions about public officials
Commentary shall take place in a professional manner

Who determines what a "professional manner" is?
Battery operated recording equipment will be permitted. . . (violates Section 2.05 – this is not a reasonable rule)

Why did they limit this to just "battery operated" equipment? The AG's PAC has already determined that if an electrical outlet is available and does not present a tripping hazard to the public, then the public body must allow its use by recording devices.
The consumption of any food product is prohibited at any meeting while the meeting is in session

Is there a compelling need for this rule? Who determines what a "food product" is? Is it the definition found in Section 201(f) of the Federal Food, Drug, and Cosmetic Act where water and chewing gum are defined as a food (Section (r), (s), (z), and (gg) also further define "food")? Does this rule prohibit the civil and human right to breastfeed? What about people that might experience low blood sugar and need a snack due to their diabetes?  Is it some other made-up, unpublished, definition that will be defined on-the-fly by the supervisor? Additionally, food consumption has nothing to do with the right to address public officials, why is it in this policy?
Rules for public comment must further enhance, not restrict, the public's right to address public officials at the public meeting. Any restriction must demonstrate a compelling governmental need for restrictions. An example of an acceptable restriction is a time limit for each person to speak.
The rules adopted by Supervisor Mayer violate federal and state law in multiple ways, and it will be challenged in court if this policy is not rescinded and/or amended to comply with law.
18-07-Public-Participation-at-Meetings

.