US (ECWd) –
After years of success in rooting out public corruption and malfeasance in Edgar County, we still hear the claim, Edgar County is the most corrupt county in the state.
Local success led to people in other counties asking for our help.  Each and every time, we would hear those people say, "Our county is the most corrupt county in the state."
As we assisted citizens with their Townships, Villages, Library Districts, Park Districts, Municipalities and other local governments throughout the state of Illinois, the same battle cry was echoed;  Local citizens all referred to there local government as the most corrupt in the state.
Demand for our help had grown to a point we couldn't keep up. Regardless, we knew we had to figure out a solution to the fact so many people are needing help holding their local governments accountable to the law.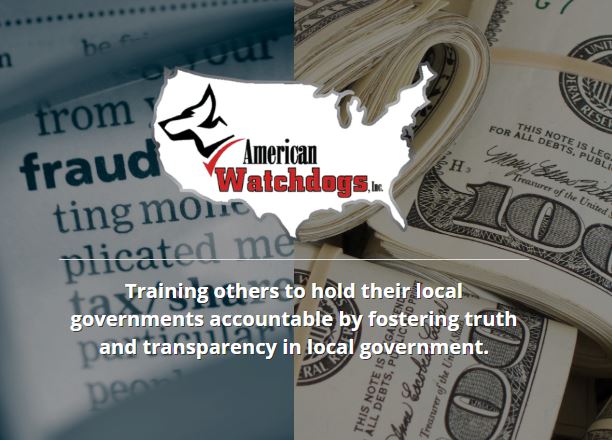 We formed another non-profit with the sole purpose of training others how to do what the Edgar County Watchdogs do at the local level, American Watchdogs Inc. (AWI)
American Watchdogs Inc. has provided training to hundreds of people in Illinois, Indiana, New Jersey, Ohio, and soon to be added to that list, Wyoming.  People like us across this country are standing up and learning how to put a stop to out of control actions by public officials, on all sides of the political spectrum.
For those we trained in other states, the theme we heard in Illinois, sadly, was echoed.  Each and every place believed their community was, in fact, the most corrupt in their state.
There is always a message in a message.
Our success is not ours to claim but rather the people's to claim.  We have great people working in our local governments who are fed up with the corruption and malfeasance.  More often than not, it is those same people who reach out to us for help because they know we don't play politics and can't be intimidated into ignoring it. Yes, we have been threatened, quite frequently, but it only makes us dig deeper.
There are a few messages that appear to be common in every place we have provided our training.
Prior to the training:
The message was clear, the public no longer trusts their local government, which is dangerous to the Constitutional Republic known as the United States.
Fear of retaliation by public officials (and their supporters) who don't appreciate their activities being made public was a key reason for not getting involved. 
After the Training:
The message received was one of hope for both the citizens trying to fix what is broken, and those working in a corrupt public facility.  
They learned how to deal with prior concerns and became motivated to make a difference. 
American Watchdogs expects the next year to be exciting as we see more people realizing they are in charge, not those in office.  They learn each one of them can make a difference and are motivated to get involved. The solution-oriented training which is based on past successes and application of nothing more than the rule of law, is truly empowering citizens across the United States and across all party lines.  Following the law should not be a partisan matter.
One of AWI's first major projects was developing a searchable website placing government license plates into a database for three states; Illinois, Indiana, and Ohio.  It didn't take long before local officials were caught using their government vehicles for private purposes.  It is a tool for local citizens to use free of charge to hold their local government officials accountable.  Currently available as an App for Android.  Hopefully, with future financial support, we can include the App for Apple iPhones.
The next big push was to identify the true debt obligations taxpayers are facing as it relates to School Districts in the state of Illinois.  We will soon publish that multi-billion dollar bombshell.  The information to be disclosed will put hard numbers into local citizen's hands so they can truly see how out of control their local school district spending is.
Check back for future training dates so you can become better informed on how things are supposed to operate with your local government, and what you can do to hold them accountable to the law.
You can make a difference.
.
Our work is funded entirely thru donations and we
ask that you consider donating at the below link.