Vermillion County, Indiana. (ECWd) –
On May 23, 2018, Randy Peterson appeared in Vermillion County, Indiana Court and admitted to violating the terms of his probation by "failing to behave well."
Motion to Revoke Probation was granted, and Peterson was directed by the Indiana Court:
to serve an additional 180 days on formal probation, and
to complete an additional 80 hours of community service.
This action stems from his 2017 DUI conviction and subsequent arrest in Edgar County for domestic battery, for which he recently plead guilty to a negotiated plea of Battery on May 14, 2018.
Prior to this DUI, he was arrested in Indianapolis for battery, but those charges were later dismissed.
.
Our work is funded entirely thru donations and we
ask that you consider donating at the below link.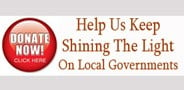 </