LISLE, IL. (ECWd) –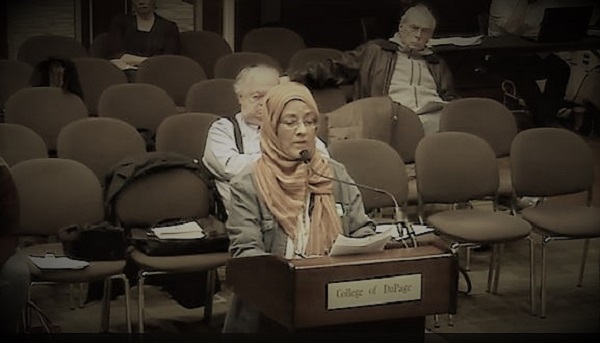 Rafath Waheed pled guilty today to felony and perjury charges related to her election petitions submitted for candidacy as a College of DuPage Trustee for the 2017 election cycle.
We had previously written about the petition challenge (here and here), her admitting (here), on camera (here), and under oath, that she copied petition papers and had two different Notaries stamp them as originals, and then submitted them to the college to be placed on the ballot for Trustee of College of DuPage.
We wrote that she was charged by the DuPage County State's Attorney on March 16, 2017 of two counts of forgery, two counts of issuing a forged document, and four counts of perjury – in order to "earn" a seat on the College of DuPage (COD) Board of Trustees.
Today's events resulted in her entering a plea of guilty, allowing her to take advantage of the "Diversion Program" offered to first-time nonviolent offenders. Her successful completion of this program will basically vacate and dismiss these charges – as long as she stays within the law for the upcoming year.
.
Our work is funded entirely thru donations and we
ask that you consider donating at the below link.