EFFINGHAM Co., IL. (ECWd) –
Our final Sunshine Week article is all about shining the light on another "anonymous" letter writer who has obviously fallen off her rocker.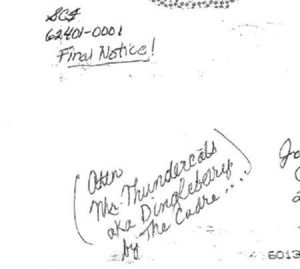 We know who she is and will deal with this thru the appropriate channels.
Several years ago there was a person that contacted us with "tips" on a specific event in Effingham County that we could never verify. We did not write about it since we could not verify it.
This person apparently became offended that we ignored her information and set out to send "anonymous" letters to people we have run across in our local government accountability work.
We have never read such outrageously false, paranoid, whack-job comments and comical conspiracy theories.
Here are a few things in her crazy mind…just for you to laugh at:
the Masons are behind it
we started in 2007
we work "from the Ohio river to the Wisconsin border"
we have hackers working for us, oh, and an IT guy
she worked with an attorney from Chicago
we use proxy servers and evasive tricks
we hacked an attorney's office computers
we dumped somebody in a 3-day blizzard in Shawnee National Forest
we delete articles from our website
somebody was probably murdered
Eastern Star, disgusting rednecks
we are amazing hackers and go to hacker conventions in Las Vegas
we use "StingRays" and other tech tools
we drink and compare notes with the FBI and other government agencies
we plant cookie trackers
we take over people's smartphones with Stingrays
we sue everybody for $12 million dollars
we formed a HUGE "Shadow Government" and it is enormously successful
her uncle was a Mason and was sent to the USSR to help them
she met with John Wayne Gacy
she has an AR15 by her kitchen door
we planted a keystroke thingy on her computer
Thanks for the laughs Susan ("SCF").
.
Our work is funded entirely thru donations and we
ask that you consider donating at the below link.