NEWTON, IL. (ECWd) –
After reviewing another Police Officer's narrative of the events from December 18, 2017, it is clear, according to the report, that Jasper County School Board Member Holly Farley gave false information to the Police Officer.
Officer James Riddle, said he spoke to Farley and she said that Kraft was "leaning over the desk, pointing his finger at her and raising his voice. She said that he demanded that she listen to him, whether she liked it or not."
None of it is true, and easily provable by reviewing the video again:
At NO  time did I ever lean over the desk, let alone even get close enough to touch the desk
When I started talking, she rudely interrupted in a raised voice and said "No thank you…" (and she continued talking and raising her voice) and my reply was "I'm going to ask anyway…" – there was absolutely no demand that she listen to me and no demand that she listen to me whether she liked it or not.
I NEVER pointed my finger at her – when I was talking, all my fingers were extended, and if she had not raised her voice to continue rudely talking over me, I would have had no reason to raise my voice.
The only "finger pointing" (other than me pointing at the ground when talking about somebody suing the district) came from Melissa Stanley and the Clerk.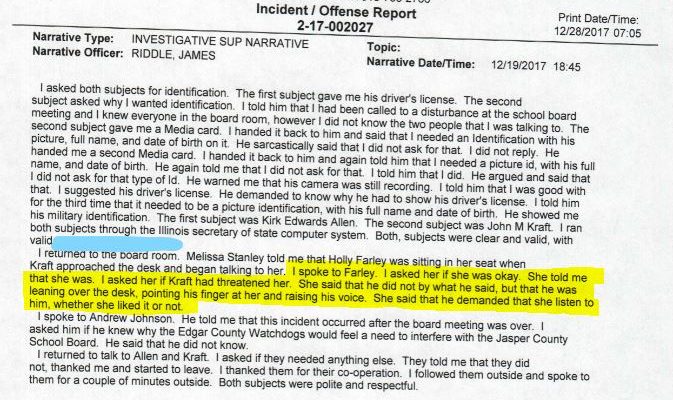 So now we have at least two board members who were less than honest in what appears to be for the purpose of inflating what happened in order to solicit the response they wanted from the Police Department.
.
Our work is funded entirely thru donations and we
ask that you consider donating at the below link.