McHenry Co. (ECWd) –
When an elected official tells you that one of their first of many orders of business is to destroy records, it's no wonder people had concerns over missing records.
According to a post on Imgur in the name of Karen Miller Lukasik, which is the name of the Algonquin Township Clerk, a claim is made that there are no records missing. If such a claim is true, we can only wonder why we have so many records not being provided as other records point to their existence? We covered a few of them in this article.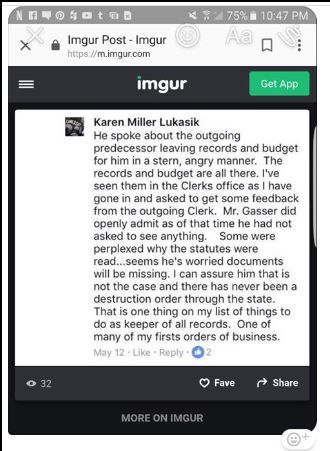 We also wonder, if record destruction is, in fact, one of the claimed "first of many orders of businesses", why are we eight months into a term and not a single document destruction request has been sent to the Secretary of State?
Is it possible our notification in our first FOIA request put a stop to any attempts at destroying records?
"NOTE that a FOIA request requires the requested records be retained and stops any record destruction authorized prior to the FOIA. You can confirm with the Local Records Commission on this information."
There are numerous situations that justify the destruction of records, space being the biggest, however, when a public body is in litigation as we see with Algonquin Township, all destruction should be placed on hold.
In addition to current litigation as a justification to cease destruction, the fact a Grand Jury is involved in potential criminal acts by public officials, it's clear no records should be destroyed.
Unfortunately for those who felt it was OK to destroy records 'they' might find themselves on the wrong side of an indictment for such action.
.
Our work is funded entirely thru donations and we ask that you consider donating at the below link.