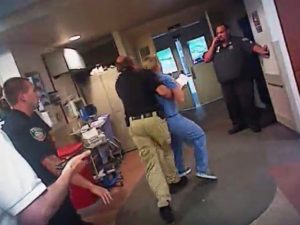 SALT LAKE CITY, UTAH – (ECWd) –
As an update to my previous analysis of the horrific (and likely unconstitutional) behavior of Salt Lake City police officer Jeff Payne and his July 2017 body-cam-recorded physical assault on University of Utah Burn Unit nurse Alex Wubbels, Salt Lake City Police Chief Mike Brown officially terminated Payne's employment with the Police Department on October 10th, 2017; additionally, Brown demoted Payne's supervising lieutenant, James Tracy, back down to the rank of "officer" (for his own poor judgment and his participation in Payne's abuse of Wubbels). The perceived delay in terminating Payne and demoting Tracy was apparently due to the multiple (and lengthy) disciplinary steps required in Salt Lake City's union contract, which establishes a rigid procedure for investigating allegations against police officers and giving them an opportunity to try to explain their conduct before Police Chief Brown is allowed to make any negative employment decisions against the officers.
The letters that Chief Brown wrote respectively to Payne and Tracy informing them of his decisions in their cases are worth reading in their entirety. 
In my opinion, this is all a striking example of how important body-cam-footage is to protecting the public's constitutional rights and how vital the Freedom of Information Act is in ensuring that the police can never destroy footage of themselves abusing or assaulting the public. If not for the body-cam footage that Alex Wubbels and her attorney obtained via FOIA request, it's doubtful that Payne or Tracy (or other craven and still-unnamed officers who stood by and allowed Payne to assault Wubbels under color of badge) would ever have been held accountable. The body-cam video prevented these out-of-control policemen from lying about what they did to Wubbels and creating a "She said/Cops said" situation that Chief Brown could have ignored.
In our modern world where government employees sadly cannot be counted on to tell the truth (when the truth hurts them), if something is not caught on video then it didn't happen. Whenever a member of the public is dealing with a police officer or other government employee who is abusing a person's civil rights or mistreating that person in any way, a camera of some kind needs to be rolling to ensure that the government does not have any ability to lie about what those employees did to that private citizen.
Interestingly, large sections of Chief Brown's termination/demotion letters are heavily redacted in greyed-out "Garrity protected" swaths. "Garrity protected" appears to be an unique exemption to FOIA production involving government employees being questioned in disciplinary investigations; the term apparently stems from the court case Garrity v. New Jersey (1967) that involved compelled statements made by public employees being inadmissible in subsequent criminal proceedings (due to the Fifth Amendment protecting an individual from being compelled to incriminate himself). The "Garrity protected" sections of Chief Brown's letters to both Payne and Tracy appear to be where statements that Payne and Tracy made to investigators are quoted.
Though it's impossible to even attempt to guess what's hidden under the "Garrity protected" redactions, contextually it appears that these grey blocks appear where Payne and Tracy attempted to either justify their (unjustifiable) actions against Wubbels or deny aspects of what body-cam footage clearly recorded Payne doing to Wubbels.
Another important takeaway from Chief Brown's letters is how often he references the immense damage to public trust that Payne's assault on Wubbels inflicted. An informed and aware public that recoiled in coast-to-coast horror at what the Salt Lake City police did to that poor nurse (who was just standing up for the constitutional rights of her patient) and demanded action be taken against Payne and Tracy ensured that no cover-up or mere slap-on-the-wrist could be had in this matter. As a corollary to that "if it's not caught on video, then it didn't happen" rule, if a video of a public employee behaving horrifically goes viral then the government loses all ability to circle the wagons and side with its employee against the public (and the United States Constitution).
The Salt Lake City Police and the Mayor's office seemingly did absolutely nothing about this matter for more than a month after Alex Wubbels was assaulted…until Wubbels' lawyer released the body-cam footage and it went viral. Catching public employees behaving egregiously and then posting that video to the Internet for everyone to see appears to be one of the only ways that local government can effectively be pressured to do the right thing when public employees are decidedly in the wrong. If there is no video evidence, then it seems more often than not that public bodies circle their wagons and try their best to avoid accountability.
.