STARK CO., IL. (ECWd) –

The Stark County News is reporting that Coleen Magnussen, Stark County Board Chair, has resigned as Chair and resigned as Board Member. Photo of her resignation letter below and was taken from the Stark County News Facebook page.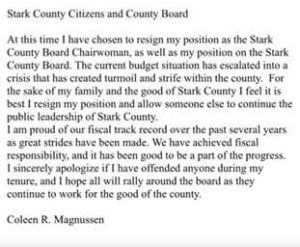 It was clear from the past 2 or 3 board meetings that her tenure was about to come to an end.
We hope the good citizens of Stark County take this opportunity and turn it into something good for the County.
.