JACKSONVILLE, IL. (ECWd) –
Illinois State Senator Sam McCann is having trouble deciding whether to give illegal campaign donations back to the public body who sent them, or maybe to simply keep those illegal donations until the Illinois State Board of Elections gets notified and he is forced to deal with it.
In a response on wlds.com to our article from yesterday detailing those donations with public funds in violation of state law, Sam McCann is quoted as saying:
"the committee received the two contributions with the presumption that the hospital had drawn the contributions on an account that was structured for such purposes"
McCann also said he would "look at the issue, and if further review warrants, make full restitution to the hospital".
There are several problems with his statements:
First, why does McCann think a public body can "structure" an account for political campaigns using public funds?
Second, why hasn't he already sent a check to the hospital for full restitution?
Notice he does not deny knowing the hospital was a public body.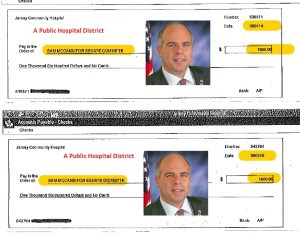 As stated in our previous article, the Better Government Association (BGA) wrote about this issue in May, so McCann has had plenty of time to "look at the issue" and return the public funds back to the hospital. Obviously he thought he could get away with keeping them.
As far as CD Davidsmeyer, he also received funds from the hospital, but when it was brought to his attention, he promptly returned those funds – and the Hospital is taking steps to ensure this does not happen again.
ECWd's message to Sam McCann: Write the freaking check already. You've had 2 months to "look into it".
Our work is funded entirely thru donations and we
ask that you consider donating at the below link.