DuPage Co., IL. (ECWd) –
It was a simple request. I was trying to figure out which elected DuPage County Board Members were participating in the county Medical, Dental, and Vision insurance programs.
What I ended up with was some sort of cryptic numbering system to obscure the participants.
From the dollar amounts involved, it appears some board members have signed up their entire families with taxpayer-funded health insurance.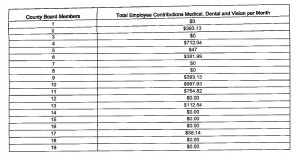 The amounts listed above are what the board members pay per month, some of them also stick the county, the taxpayers, with an additional payment in excess of $2000 per month, or payments exceeding $24,000 per year for that one board member.
The public has a right to know which county board members are ripping them off with this unauthorized compensation – compensation in excess of the Resolution setting county board member compensation.
I have filed a complaint with the Illinois Attorney General's office against this unauthorized redaction, and if the AG takes too long we will probably sue the county for Freedom Of Information Act violations.
Sec. 2.5. Records of funds. All records relating to the obligation, receipt, and use of public funds of the State, units of local government, and school districts are public records subject to inspection and copying by the public.
I can read that paragraph and understand it, why can't Cronin understand it?
The fleecing of DuPage County taxpayers continues, and we are just getting starting unraveling this mess.
Related article here: https://edgarcountywatchdogs.com/2016/02/dupage-county-board-chairman-dan-cronins-excessive-compensation/
Please consider a donation to the Edgar County Watchdogs.
[wp_eStore_donate id=1]