DuPage Co. (ECWd) –
As we wind down this series outlining the importance of understanding what the 'Breuder Board' means vs. the 'Reform Board', we felt College of DuPage Trustee Dianne McGuire deserved a dedicated exposure of her games.
The pattern of misrepresentations and out right lies by Dianne McGuire is well established and documented.  The bottom line appears to be she simply is opposed to anything the 'Reform Board" has done or is trying to do.
Are her actions nothing more than a personal vendetta?
From day one she has insisted the law firms should be fired because of her perceived conflict of interest, yet she was silent about the past law firm's conflicts.  Her problem is that the firms hired won't rubber stamp wrong doing as it appears the past firms did.  In short, no more free food and booze and vacations on the backs of the taxpayer!
In her efforts  to create her own crisis at COD she has filed multiple ARDC complaints citing conflicts and by all indications every complaint was rejected, yet she has refused to tell the public that outcome.  We told her in this article, put up or shut up.
Once those complaints failed, now her problem is the cost of the firms.  Interesting how she had no problem when Erin Birt illegally hired Res Publica PR firm without any board approval.  She also sat silent when almost $300,000.00 was spent, according to the Chicago Tribune, in just over a month.  How is it that similar spending by the 'Reform Board", mostly on matters pertaining to criminal investigations by the FBI and US Attorney's office, is out of control, but clearly OK when the "Breuder Board" did it?
Again we must ask, are her actions nothing more than a personal vendetta?
From baseless drama at the meetings to cry-baby tattling to the Higher Learning Commission, COD trustee McGuire is clearly unhinged.  She is an embarrassment to the College and the political party she claims to represent.  She needs to resign, just as the Chicago Tribune called for her to do a long time ago!
With a COD Trustee Meeting coming up on the 7th of January, 2016, we urge everyone to attend and bring a friend and be prepared to provide your opinions on any matter COD related!  Citizen outcry is the only thing that will help the voter mandated 'Reform Board"
Enjoy the video!
.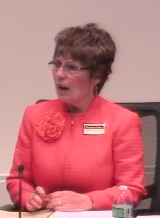 .
Please consider a donation.
[wp_eStore_donate id=1]