College of DuPage (ECWd) –
As promised during the COD meeting last week, the college has posted the email exchanges between Chairman Mazzochi and the rogue trustees proving she attempted, multiple times, to bring them to the table to agree on an agenda.
What the three rogue trustees fail to understand is that they are not in charge of the board at this time. The Chairman still has agenda making authority and although the rogue trustees called a lawful meeting, they do not have the authority to dictate the agenda. Yes, they can mandate certain items be on that agenda, but cannot dictate they be the only items on the agenda.
Section 3-8 of the Public Community College Act
Special meetings of the board may be called by the chairman or by any 3 members of the board by giving notice thereof in writing stating the time, place and purpose of the meeting. . .
Please note that this paragraph authorized three trustees to call a special meeting, in writing, stating the "time, place, and purpose" of the meeting.
It says nothing about "setting the agenda" or "nothing else can be added to the agenda" – McGuire and Birt are 100% wrong on this subject.  It is appears they believe stating the 'purpose', written in the form of an agenda, somehow means they get to set the agenda, which is wrong.
For the agenda, they must comply with COD policy.
[gview file="https://edgarcountywatchdogs.com/wp-content/uploads/2016/01/responses_01716.pdf"]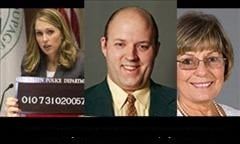 Please consider a donation.
[wp_eStore_donate id=1]