Illinois (ECWd) –
In July of 2014 I wrote an article pertaining to the reporting by the political blogger Richard Miller. It was appropriately titled, "Gov. Quinn's NRI Program: So political they miss the basics!"
The very NRI program he referenced as not having any smoking guns had e-mails of counselors teachings kids to stay inside because the cops will kill them.  Sadly, we see such killings in the streets of Chicago now and attempts to cover them up point to the failures of our moral fiber in this state, among many other things.
Knowing that self proclaimed political bloggers are tied at the hip with the establishment, I sat waiting for any coverage to shine from the keyboards of Capital Fax on the Auditor General campaign expenditure scandal.  So far not a peep.  How telling, considering history of Mautino.
Many have already forgotten, but we have not, as we were asked by several legislatures to review THOUSANDS of emails pertaining to the former Governor's NRI program and we know  from those documents crimes were committed and to date nothing has been done.
Any guess who was the Democratic co-chair of the panel looking into Quinn's NRI/anti-violence program?
None other than former assistant Majority leader Frank Mautino, the current Auditor General for the States of Illinois. 
You know, the position that requires an impeccable record of fairness, transparency, honesty, etc.   We are approaching almost two years now and we have yet to see a single person held accountable for millions of dollars swindled from the taxpayers and put into the pockets of the politically connected.
As the co-chair of the panel, Frank Mautino "chose not to sign off on subpoenas seeking testimony of Warren Ribley, the former head of the Department of Commerce and Economic Opportunity, and Andrew Ross, Quinn's former chief operating officer. Mautino said their involvement in the program is outside the scope of a blistering audit lawmakers are examining, one that found the anti-violence program was hastily implemented and had inadequate oversight." (as reported by Chicago Tribune)
How interesting a key figure that was put in charge of investigating the scandal on behalf of the taxpayers refused to investigate two key political figures.  Even more disturbing was his claim their involvement in the program was outside the scope of the report they are examining.
Why is such a statement disturbing? 
"Ribley and Ross were involved with a portion of the anti-violence program that distributed loans to small businesses" according to the Tribune report.
If Mautino is not going to sign off on subpoenas to get to the bottom of a multi-million dollar scandal in his capacity as a co-chair of a panel tasked with that obligation, can anyone believe that he was the best pick for the ten year position of Illinois Auditor General?
One of the two in question just happen to have provided campaign donations to Mike Madigan about a year after he avoided being subpoenaed. Coincidence or by design?  In Illinois politics you may never know but we must learn to read the tea leaves.  (Ribly campaign contributions)
What some may consider a minor story, the Chicago Tribune story from June of 2014 was in fact a major tea leaf to the people of this state.  If Mautino was not going to 'fully' investigate the crimes committed in the NRI program, what on earth made the commission tasked with selecting this states next Auditor General think he was even remotely qualified for such a position?
Past actions point to future expectations.  A person not willing to get to the factual bottom of a problem in his capacity as a co-chair  on a panel tasked with doing just that has no business sitting in the chair tasked with basically the same obligation at the state level.
We once again call for Auditor Mautino to come clean and disclose ALL of his campaign expenditure receipts for these questionable expenditures.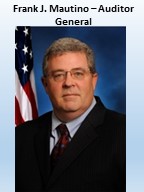 Please consider a donation.
[wp_eStore_donate id=1]