DuPage Co. (ECWd) –
As most of our readers know, we are not about political correctness and we never pull punches when it comes to our demand that public bodies must follow the law, as in all of them.
According to reports from the Daily Herald, "Three trustees say they will continue boycotting College of DuPage board meetings until a new chairperson is elected."  (Herald Article here)
Considering College of DuPage Trustees Birt (who is no stranger to criminal behavior), McGuire, and Wozniak failed to show up to the last meeting, we must assume there action is consistent with the reporting.
It was reported that "On Thursday, they sent a letter to Collins saying they refuse to attend any meetings until an organizational meeting is held to elect a new chairperson. They want the organizational meeting to be held "as soon as possible."
I don't know about everyone else, but that statement sure appears to border on blackmail according to definitions readily available. "to use threats to persuade a person or government to do what you want" (Click here for one of two definitions)
Their threat was to refuse to attend any meetings unless a certain condition is met.  Sounds pretty clear to me.
Regardless of the applicability of the Blackmail definition, let's keep this simple.
Trustees Birt, McGuire and Wozniak should face felony criminal charges for Official Misconduct for refusing to perform their statutory duty as elected officials.
(720 ILCS 5/33-3) (from Ch. 38, par. 33-3)
Sec. 33-3. Official misconduct.
(a) A public officer or employee or special government agent commits misconduct when, in his official capacity or capacity as a special government agent, he or she commits any of the following acts:
(1) Intentionally or recklessly fails to perform any mandatory duty as required by law;  or,                           (2) Knowingly performs an act which he knows he is forbidden by law to perform; or
(3) With intent to obtain a personal advantage for himself or another, he performs an act in excess of his lawful authority; or,
(4) Solicits or knowingly accepts for the performance of any act a fee or reward which he knows is not authorized by law.     (b) An employee of a law enforcement agency commits misconduct when he or she knowingly uses or communicates, directly or indirectly, information acquired in the course of employment, with the intent to obstruct, impede, or prevent the investigation, apprehension, or prosecution of any criminal offense or person. Nothing in this subsection (b) shall be construed to impose liability for communicating to a confidential resource, who is participating or aiding law enforcement, in an ongoing investigation.
(c) A public officer or employee or special government agent convicted of violating any provision of this Section forfeits his or her office or employment or position as a special government agent. In addition, he or she commits a Class 3 felony.
(d) For purposes of this Section, "special government agent" has the meaning ascribed to it in subsection (l) of Section 4A-101 of the Illinois Governmental Ethics Act.
(Source: P.A. 98-867, eff. 1-1-15.)
So the question that must be answered, have these three trustees intentionally failed to perform 'any' mandatory duty as required by law?
According to the Community College Act, (110 ILCS 805/3-8),  "The board shall then proceed with its organization under the new elected board officers, and shall fix a time and place for its regular meetings.  It shall then enter upon the discharge of its duties.
In this case, Birt, McGuire, and Wozniak have refused to perform their duties which they were directed by law to discharge after the organizational meeting and the setting of regular meetings.
For any trustee to refuse to perform their duties under the law is an intentional failure to perform a mandatory duty as required by law, thus Official Misconduct.
And to make matters even worse, the drama queen herself is quoted in the above referenced Herald article as saying,  "I take my role very seriously at the college and have always performed my due diligence," McGuire said Friday.
That, ladies and gentleman is a bold-face lie!  She refused to perform her due diligence as a trustee the day before she lied to the press.  Performance of one's due diligence is not refusing to come to meetings unless you get what you want.  That borders on blackmail and at a minimum Official Misconduct.
Not convinced they are committing a crime? 
(720 ILCS 5/12-6) (from Ch. 38, par. 12-6)
Sec. 12-6. Intimidation.
(a) A person commits intimidation when, with intent to cause another to perform or to omit the performance of any act, he or she communicates to another, directly or indirectly by any means, a threat to perform without lawful authority any of the following acts:
(1) Inflict physical harm on the person threatened or any other person or on property; or
(2) Subject any person to physical confinement or restraint; or
(3) Commit a felony or Class A misdemeanor; or
(4) Accuse any person of an offense; or
(5) Expose any person to hatred, contempt or ridicule; or
(6) Take action as a public official against anyone or anything, or withhold official action, or cause such action or withholding; or
(7) Bring about or continue a strike, boycott or other collective action.
(b) Sentence.
Intimidation is a Class 3 felony for which an offender may be sentenced to a term of imprisonment of not less than 2 years and not more than 10 years.
(Source: P.A. 96-1551, eff. 7-1-11.)
The intentional actions by three trustees has caused the other trustees to omit the performance of their duties under the Community College act.  That was accomplished by Birt, McGuire, and Wozniak's communication to each other with their threat and action to boycott the meeting.  Such action violates items 6 and 7 of the statute in our opinion.
It appears to be clear that these three trustees have in fact violated section 6 of the Criminal code for Intimidation.  As public officials, they have taken an action against the College, refusing to attend meetings, as well as having withheld official action, which is the failure to perform their duty.  Such action has caused the remaining board of trustees to be unable to perform their duty.
The have also, collectively, brought about a boycott and have expressed to the media they will continue such boycott until they get their way.  That violates item 7 of the Criminal code for Intimidation in our opinion.
I would urge legal counsel for the College of DuPage to advise these trustees that their actions may in fact qualify as criminal acts and they could be subject to criminal charges.
I would also suggest citizens in the COD District to file a formal criminal complaint with Sheriff's office and State's Attorney.
Lastly, for those that value the importance of our laws, call the DuPage State's Attorney's office and ask Bob Berlin to intervene.  Specifically, suggest that he inform these three stooges if they refuse to do their job under the law, then they shall face criminal felony charges of Official Misconduct and Intimidation.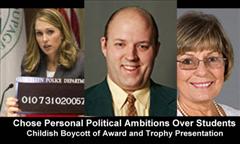 Please consider a donation.
[wp_eStore_donate id=1]