ORLAND PARK, IL. (ECWd) –
On February 12, 2014, the Orland Park Public Library Board (OPPL) of Trustees held a special meeting. This special meeting was held on a legal holiday in the State of Illinois. It is recognized as a legal holiday by the legislature, every state agency, and the Illinois Supreme Court, but the OPPL Attorney, Dennis Walsh of Klein, Thorpe, and Jenkins, advised the OPPL board that it was not considered a legal holiday because the library board did not determine it to be a legal holiday. How convenient…and wrong.
He points to statutes that allow local public bodies to determine local holidays as justification, but the fact is, that merely allows local governments to designate holidays in addition to state and federal holidays, not in lieu of.
The Open Meetings Act clearly states that meetings required to be open to the public cannot be held on legal holidays unless it is a regularly scheduled meeting that happens to fall on that day (EX: first Monday of the month). Please note it does NOT state "federal" holidays, but "legal" holidays and giving the intent of meaning legal Illinois holidays.
Members of the public believe this meeting was called with the sole purpose of ramming controversial issues ahead without the public having proper notice.
This is even more evident in that Mr. Walsh also apparently advised the OPPL board that they did not have to allow for public comments during this special meeting. Nothing could be further from the truth, the OMA clearly states that "Any person shall be permitted an opportunity to address public officials under the rules established and recorded by the public body".
This applies to every public meeting, not just to the regularly scheduled meetings as Dennis Walsh, attorney at Klein, Thorpe, and Jenkins, seems to think. Kind of makes you wonder how many other public bodies they have given this advice to. Furthermore, any established rules must be reasonable and not inhibit public comment.
Here is a similar AG Opinion from Bridgeport, IL. on the issue (click here).
.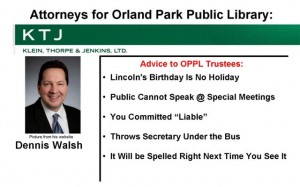 [gview file="https://edgarcountywatchdogs.com/wp-content/uploads/2014/03/B-2014PAC27987-DUJAN-FOX-Response-3-25-14.pdf" save="1″]
.
[gview file="https://edgarcountywatchdogs.com/wp-content/uploads/2014/03/OPPL-Response27987.pdf" save="1″]
.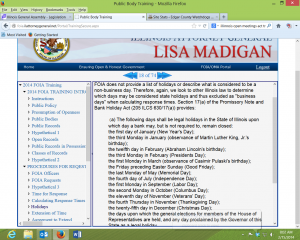 .