VERMILION Co., IL. (ECWd) –
This six year old girl is wearing her Hello Kitty headphones to bed in July 2013 because the wind turbines operating on the adjacent farm property is making too much noise.
This photo was taken at 10:43 PM after being in bed since 8:00 PM.
The closest wind turbines are 1665' and 2225' away, they are 495' tall GE 1.6 mW nameplate capacity, and they are owned/operated by InvEnergy in Vermilion County Illinois.
This scenario repeated for so many nights during each week that, within six months after this photo was taken, the parents and both children abandoned her home and moved into a doublewide trailer eight miles away in order to get away from the nighttime noise.
Now, she asks her parents on regular occasions, "When can we move back into our old house?" and " I want to have a normal life and get to have my old bedroom back again because I don't like living here because there's not enough room for my stuff and there's no place to keep my things."  Her parents have gently reminded both kids that they love them very much and that their health is way more important than having material things such as a nice big house with all the toys and things.
Good parents know when they have to set priorities, and this family is making the right decision to inform the public so that other families do not have to suffer the grief and life changing setbacks caused by improper wind turbine siting.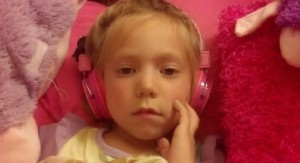 Are there children who live in your county?  Are there any families who live near wind projects proposed for their rural community?  Have you seen the letter from the Armstrong Grade School Superintendent?
If not, please take a few minutes to learn more by visiting www.fairwindenergy.org and www.edgarcountywatchdogs.com and  search "Vermilion" to see what can happen to your friends or family if wind turbine siting is overlooked and decisions are made by misinformed government leaders.