Race for the 110th –
Darrell Cox, candidate for the 110th legislative district, deleted a comment of mine that was intended to correct a false statement he made in reference to his perceived ability to sell confiscated guns.
Comment here: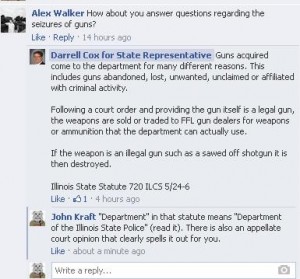 As you can see it was a tasteful and non-combative comment.
-Statute doesn't allow their sales
-Court cannot authorize their sales
-Appellate Court Opinion set precedence on it
-Illinois State Police agree they cannot be sold
Why does he have such a problem with the truth?