Decatur, IL. (ECWd) –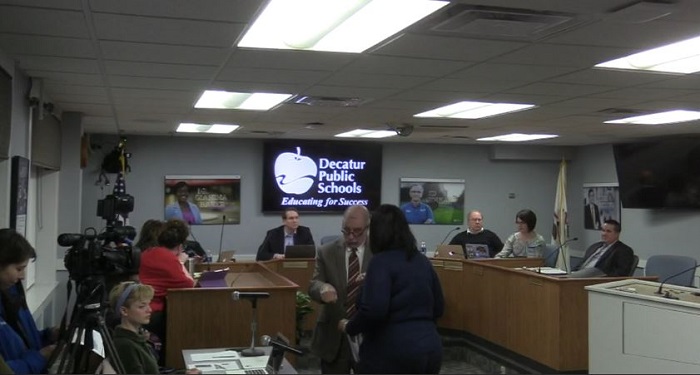 Public comment during Decatur Public School's February 25, 2020, board meeting saw the school district's attorney lay his hands on a speaker, shake his finger at him, and ask he not mention names.
There was apparently an incident at one of the schools where a substitute teacher accosted a student or students, then later those students were asked to change their story about what happened.
Later, members of the Decatur Federation of Teaching Assistants read and delivered a petition packet asking for the resignation of the school board president and other board members. This petition was signed by more than 600 people.
DPS61 has allegedly failed to negotiate in good faith with the Union and even terminated their health insurance coverage when they went on strike late last year.
Common with other school boards in Illinois, we see DPS61 attempting to prohibit naming board members or staff during public comment. These attempts at censoring speech are violations of the Open Meetings Act.
This attorney appears to be overstepping his "authority" thru intimidation, physical force, and admonishment of speakers. It is time for this district to hire a new attorney.
.
Our work is funded entirely thru donations and we ask that you consider donating at the below link.