MATTOON, IL. (ECWd) –
We have to wonder why this Mattoon School District vehicle was parked for an extended period of time, out in the countryside, for no apparent reason. Anybody?
A local reader used govplates.com to identify the vehicle and now calls out Mattoon Community Unit School District #2 – government vehicle parked out in the country for no apparent reason…
Thanks to this reader for the photo and other information. If you believe you have similar alleged use of public vehicles for purposes that may not be considered public business, please take photos and send them to us. We will not use your name unless you expressly permit us, in writing, to use it.
After seeing your recent articles about township vehicles being where they shouldn't, I would like to submit my photo. This was taken last December in rural Coles County about 2 miles south of Humboldt, IL. I used your license plate link to find out this a Community Unit #2 vehicle being driven by a school employee with way too much free time on their hands. I spotted this on my way to a field and over an hour later, on my return trip it was still there, idling due to cold temps also. After taking this photo the driver suddenly decided to leave and passed me before we got to Mattoon.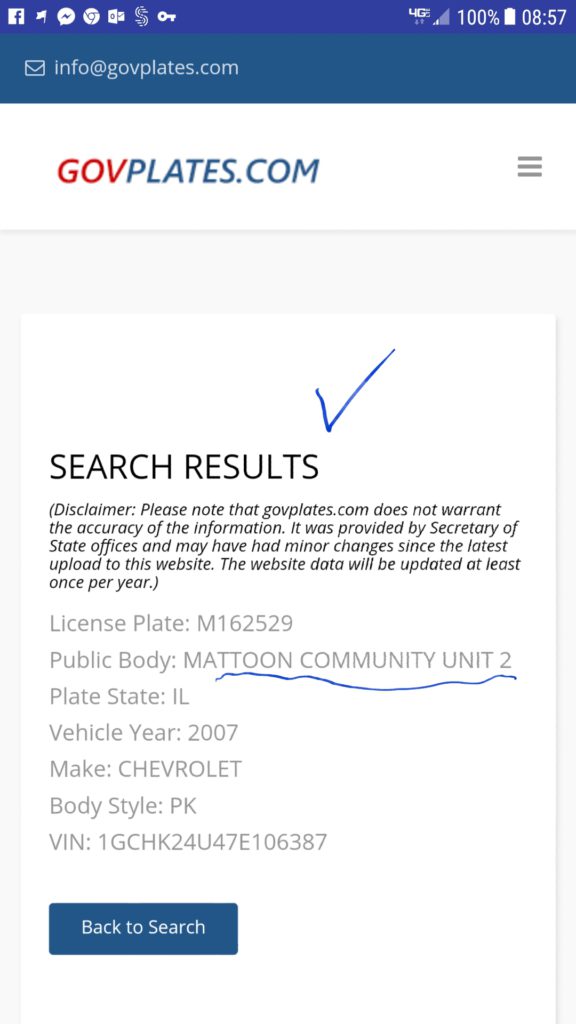 .
Our work is funded entirely thru donations and we
ask that you consider donating at the below link.