JACKSONVILLE, IL. (ECWd) –
Morgan County's appointed State's Attorney Gray Noll claims to be living in Morgan County, as required by law when elected to that position.
As we understand it, he moved to Jacksonville and closed on a house in late-March of this year.
However, according to records in the Sangamon County's Supervisor of Assessments office, he is still claiming an "owner-occupied" homestead exemption on his real estate taxes – claiming to still live in Sangamon County (while residing in Morgan County). Residing in Morgan County is a requirement to remain in the State's Attorney position after the election.
His campaign Facebook page has a statement about how Noll "moved back to Morgan County earlier this year."
So we have a candidate for State's Attorney, the county's prosecutor, who electioneers on school district property, places campaign signs on village right-of-way, takes pictures with the former chief of police (whom he should probably be prosecuting instead), and now is claiming a tax exemption on a house he does not live in.
You must ask yourself what kind of example this is setting for the residents and taxpayers of Morgan County.
Sangamon County Supervisor of Assessments online database has his Springfield, Illinois address as claiming Owner-Occupied tax exemption: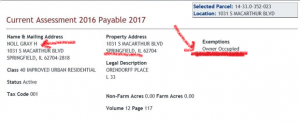 [gview file="https://edgarcountywatchdogs.com/wp-content/uploads/2016/09/Noll-Sangamon-Taxes2.pdf"]
.
Please consider a donation to the Edgar County Watchdogs.
[wp_eStore_donate id=1]
.